Conditioner Reviews
Nature's Gate

  Asian Pear and Red Tea Color Protecting Conditioner:

This organic conditioner came in pair with my first successful sulfate free shampoo. It has no cones and is paraben free. The scent is very light and fresh. It's a perfect daily conditioner and can also be used every few days if you wash like me. It's great for dry/damaged/colored hair. When I had peekaboos, my color lasted for weeks because of the combo of this conditioner and it's shampoo. It left my hair very shiny and healthy looking. It has a lot of natural extracts and oils. It's only about 7 bucks which is great for the results you are getting.
Burt's Bees

  More Moisture Raspberry & Brazil Nut Conditioner:

This conditioner can be found more commonly since Burt's Bee's is now everywhere. It's a natural moisturizing conditioner. It's about 8 dollars. Personally, I can get sick of the smell after a while and it's not quite as good as nature's gate but it is still a good conditioner and if you can't find nature's gate, this is something you can pick up. It smells heavier than nature's gate. The raspberry scent is nice but after a few days it get's a little stale. Sulphate and Cone free. I have a lot left over and I don't even know what to do with it lol.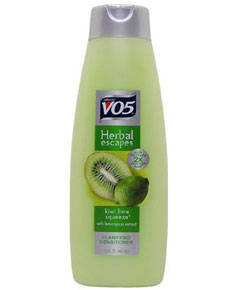 Alberto V05 Kiwi Lime Squeeze Clarifying Conditioner:
While this is not a moisturizing conditioner, it is a very important one to me. After my hair got used to C/O, I really started to notice how clean it felt whenever I used this as a cleanser. While some conditioners can make my hair smell stale after a few days of washing, it always smells fresh when I use this first. It works great for clarifying if I mix it with baking soda as well. I highly recommend this for a cleansing conditioner. Make sure to use a moisturizing one right after. 
Garnier Fructis Haircare Triple Nutrition Fortifying Cream Conditioner:
I tried this conditioner as an experiment with  a drugstore brand and to see if I could rely on something that had a small price. The first day I tried it I loved it. Over time, my hair felt oily more at the roots, did not have shine unless you looked really close, and looked weighed down. After a few days, my hair didn't just smell stale, it smelled like old cheap soap which didn't even make sense. If you use this, make sure to pair it with a cleansing conditioner; I'm sure paired with one will give better results. Many people are a fan so I may give it another try by pairing it with VO5 conditioner.
 EveryDay Shea, Moisturizing Conditioner, Vanilla Mint:
When I first bought this on sale for only 6 bucks for about 32 oz, I was impressed. It smelled light, was very thick, and was natural. However, after a few days of using this my hair started to feel like it had a little build up. It turns out this conditioner had a wax in it that my hair wasn't too happy with. It wasn't as bad as cones, but I had to clarify. It was a shame because I ended up wasting so much of it by getting rid of it. I couldn't find anyone else who wanted to try it.
WEN® Fig Cleansing Conditioner:
First, I'd like to say this product is a LOT of hype and overly priced for a conditioner. It was moisturizing, had some natural oils and extracts, but it had cones. My hair did not work well with cones. At first my hair was so shiny and bouncy from it, but over time, it rejected it because of the cones and I had to clarify. Since this bottle was about 50 bucks, I didn't want to waste it so I sent it to a very lovely person who has seen my tumblr before. I wish her the best with thee product. Just because my hair doesn't like cones, doesn't mean it won't work for someone that can tolerate them. It is a nice product for anyone who is cone friendly and there's no harm in trying it if you get the sample size. However, I do recommend instead you find something cheaper, ,like a natural moisturizing conditioner, in a place like whole foods and add any oils and extracts you want Be sure to use a cleansing conditioner with it. It may be more affected than the hyped up wen. I say wen is good however to transition people from shampoo to conditioner without feeling weird about the concept of C/O.
Nature's Gate Henna Shine Enhancing Conditioner for Dull/Lifeless Hair:
I'd like to say that I have no complaints about this conditioner. Nature's Gate has always been a great brand to me. No cones, no animal testing, no parabens, no sulphate, and it smells fresh. The conditioner is so thick and moisturizing. It makes my hair very shiny and soft. I use this mixed with my current conditioner and the combo works great. I would suggest this to anyone who wants to try the benefits of henna.
DermOrganic Intense Repair Masque Conditioner:
This is my current conditioner and I'd have to say it's my favorite expensive one. Since it has argan oil, the price seems understandable. There is no animal testing, no cones, no sulphate, no parabens, etc. It is an organic product with very pure ingredients. The smell is soothing and it is very moisturizing. My hair feels stronger since using this. I'm about to take a shower and mix this with the henna conditioner actually. It works great if you use an aluminum cap over it.
So what are your favorite conditioners and not so favorite? Feel free to send me a review and I'll put it on my tumblr and give you credit for it =]. I want my followers to start to get to know each other more. Thanks for reading and happy growing.
jensnaturalhairjourney posted this